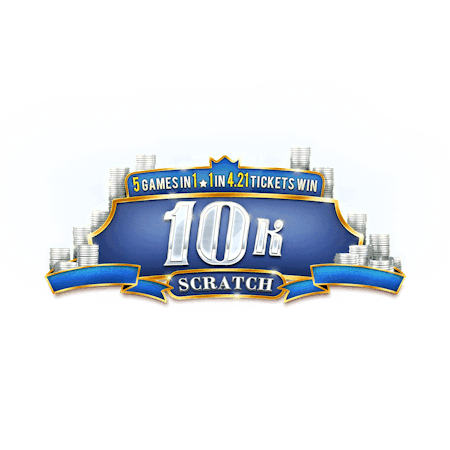 10k Scratch Scratchcard Game Details
Are you ready to try and win a delicious £10k prize on this card from Red Tiger Gaming? All you need to do is scratch off the symbols to find out what lies under them. There are five different ways to win!
10k Scratch Symbols
The dollar signs reveal number and prizes once they have been scraped off in the first game.
Another game has the lucky numbers sitting underneath four-leaved clovers.
Yet another opportunity to win involves removing the $s to see nine numbers.
In the bonus feature, you have to scratch away a gift.
The largest amounts to be won are in the section with nine clovers.
Three regal crowns award the top prize of £10,000.
Gold bullion can be worth £1,000.
The most you can claim with the number seven image is £100.
Horseshoes, bells and keys are the other images that you will be delighted to see in a set of three.
Features and How to Play 10k Scratch Scratchcard
This game couldn't be easier to play. If you are in a rush to find out whether you have won then choose the option to get everything scratched off immediately. When you prefer to build up some tension then you can go over the card and remove the top layer bit by bit until all has been revealed.
Each of the five games has its own features and goals. For instance, the first game is about matching numbers while the next one involves trying to get numbers that add up to seven. Below these games, you will want to match symbols and numbers. The bonus part has a random prize that could be a multiplier, an extra card or some money.
10k Scratch RTP
Will you scratch out some memorable wins on here? The RTP on the 10k Scratch is 91.93%.
Give this game a try and see if you can reveal the images that you need!
If you liked 10K Scratch, you may also like 25K Scratch.