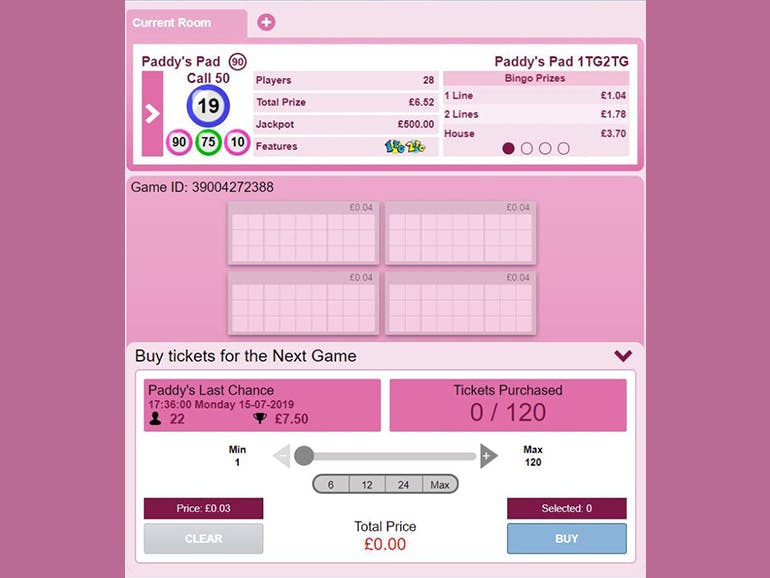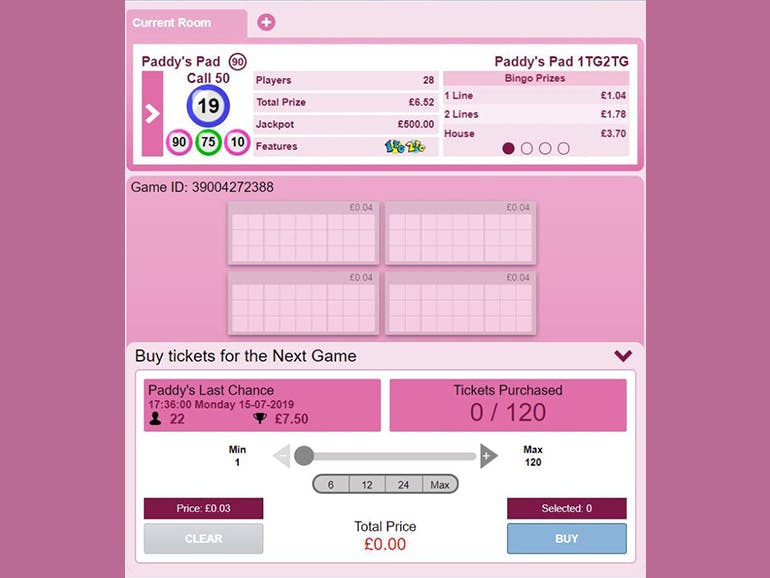 Paddy's Pad
Paddy's Pad info
Play Paddy's Pad Bingo for real money
Everyone is invited over to Paddy's Pad for an all-action game of classic bingo. There is sure to be a warm welcome for you and you will find that the action comes thick and fast. You can bring along a friend or two as well and chat online while you play.
Paddy's Pad Bingo features
Paddy's Pad Bingo is a traditional 90-ball game, and you'll find that each of your cards consists of three rows and nine columns, making 27 squares in all. On those squares there are five numbers randomly placed on each line with four blank spaces, making a total of 15 numbers in all.
In this game, each strip consists of six tickets, and you can buy up to six strips. This gives you 36 tickets in all. And remember, in Paddy's Pad Bingo you will be playing for a jackpot. So, the more players there are, the bigger that jackpot will be.
How to play Paddy's Pad Bingo
Buying tickets is as easy as easy can be. Follow the on-screen directions and then you are all set to play.
There are three prizes in each game. There is a prize for one line, two lines and House. Lucky winners will have their winnings automatically credited to their accounts.
Similar Games at Paddy Power Bingo
There are plenty more bingo rooms to enjoy with Paddy Power. So why not check out the glittering Diamond Room or Paddy's Party Room? If you are looking for a fast game, check out Paddy's Speed Trap. 
Paddy's Pad FAQ
WHO IS THE GAME DEVELOPER OF THE BINGO ROOM PADDY'S PAD?
The Paddy's Pad bingo room was developed by Virtue Fusion.
HOW MANY BALLS DOES THE PADDY'S PAD OFFER?
Paddy's Pad is a 90-Ball Bingo Variant.
HOW MANY PEOPLE CAN PLAY PADDY'S PAD BINGO?
It is open to as many people as can buy tickets in time for the game to start.
WHAT IS THE JACKPOT FOR THIS GAME?
That all depends on the number of players and how many tickets they have bought. The more players, the bigger the prize.