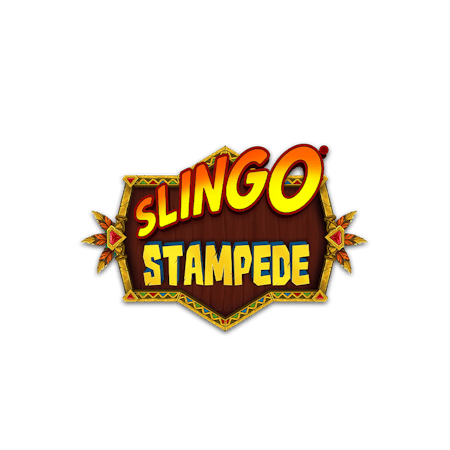 Slingo Stampede
Play Slingo Stampede Slots Game Symbols 
It's time to go on safari. Make your way to the African savannah to play the wildest game from Slingo Originals yet! Slingo Stampede rumbles onto your screen with Wilds, Super Wilds, a 5x3 reel, and Rhino Scatter symbols.
Slingo Stampede Stakes and Features 
There are 243 ways to win in the Slingo Stampede game. At the start of the adventure, you will have your Slingo card of 25 different numbers. Below the card is your 5x3 slot reel. Each spin result on this slot gives you up to 15 numbers to dab off the Slingo card.
On the slot, you will also find a few feature symbols. The big one is the Rhino Scatter. Down the right side of your card, there is a Rhino Prize Ladder. Landing multiple Rhino Scatters on one spin will reward an Instant Prize, as shown on the ladder.
You will also want to keep an eye out for the ever-helpful Wild and Super Wild symbols on the Slot. A Wild will let you dab off any number in the column above the symbol. Super Wilds let you dab off a number anywhere on your card.
How to play Slingo Stampede 
In each game of Slingo Stampede, you pay one stake to run five spins. If you get a Wild or Super Wild during these spins, you will need to click on the card to select the number to stamp. Your aim throughout these spins is to create as many Slingo lines as possible to climb up the Slingo Prize Ladder on the left of the game.
At the end of your allocated spins, you will have the chance to pay another amount to spin again and try to get more numbers. Doing this grants you one more spin, and after that, you can pay another weighted fee to go again.
Slingo Stampede FAQ
What does the X symbol mean in Slingo Stampede?
The X symbol is a blank position on the reels, which means that it will not contribute to a potential Slingo line.
What do the Scatters do in Slingo Stampede?
In Slingo Stampede, the Scatters from a single spin are collected and counted to then reward an instant win prize that's valued to the number of Scatters that you landed.